We had a terrific time connecting with so many of you!
A huge THANK YOU to everyone who joined us for UNMUTED TOO! In addition to SAGE updates and introductions, we broke off into smaller groups for some networking and a fun activity. Click here for a link to the activity; it's a PowerPoint file. We recommend that you click through the slides as a slide show from the beginning to really get the full experience. And let's just say…you should have your passport ready. 🙂
Here's a peek at some of the meeting attendees. Special thanks to Sara Marberry for this great screen shot!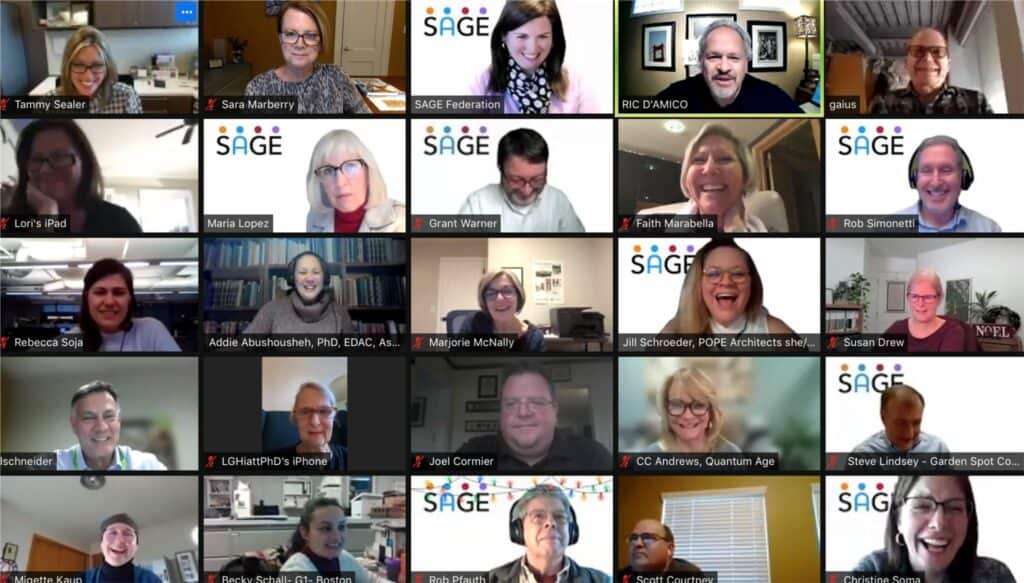 Original meeting invitation:
While 2021 was a bit more normal than 2020, it still had its quirks. We were thrilled to see many of you at the Environments for Aging Conference in Chattanooga this summer, but SAGE made the difficult decision to not host our regular annual meeting/member reception in correlation with the Leading Age National Meeting. 

That's where Zoom comes in. 




Many of you joined us for the 2020 Virtual Annual Meeting, "UNMUTED" (pictured above). It was an action-packed event filled with SAGE updates, networking, creative activities, and fun prizes. 

Please join us for UNMUTED TOO, the 2021 SAGE Annual Meeting!
What to expect:

We'll bring you up to speed on all things SAGE and then break out into smaller groups to get to know one another, socialize, talk shop, and have a little fun. Total time: 60-90 minutes.
Have a friend or colleague who may be interested in learning more about SAGE? Invite them to join us! Simply forward this email to them so they can learn more and register.
REGISTER by two hours before the start of the meeting to be entered to win "door" prizes!!!
This event has already taken place.