We keep hearing the same thing from so many great minds who attended the recent Environments for Aging Conference in Milwaukee…"It was the best one yet!" We have to agree! The city was welcoming, the sessions were fantastic, and the people…well, the people were top notch! Kudos to our friends at Emerald Expositions and Environments for Aging Magazine for yet another fantastic event. We are already excited to see everyone again in Charlotte in 2023! Interested in presenting at the 2023 EFA Conference? Presentation proposals are currently being accepted!
Let's take a look at some of the SAGE happenings surrounding EFA 2022.
SAGE Board Strategic Planning Retreat
In the days leading up to EFA, the SAGE Board of Directors gathered at Plunkett Raysich Architects for an in-depth strategic planning retreat, facilitated by Michael Peer with CLA. We are so excited to get to work on the BIG plans we made to continue to serve the industry and provide value to our members. Click here for highlights!
SAGE Member Reception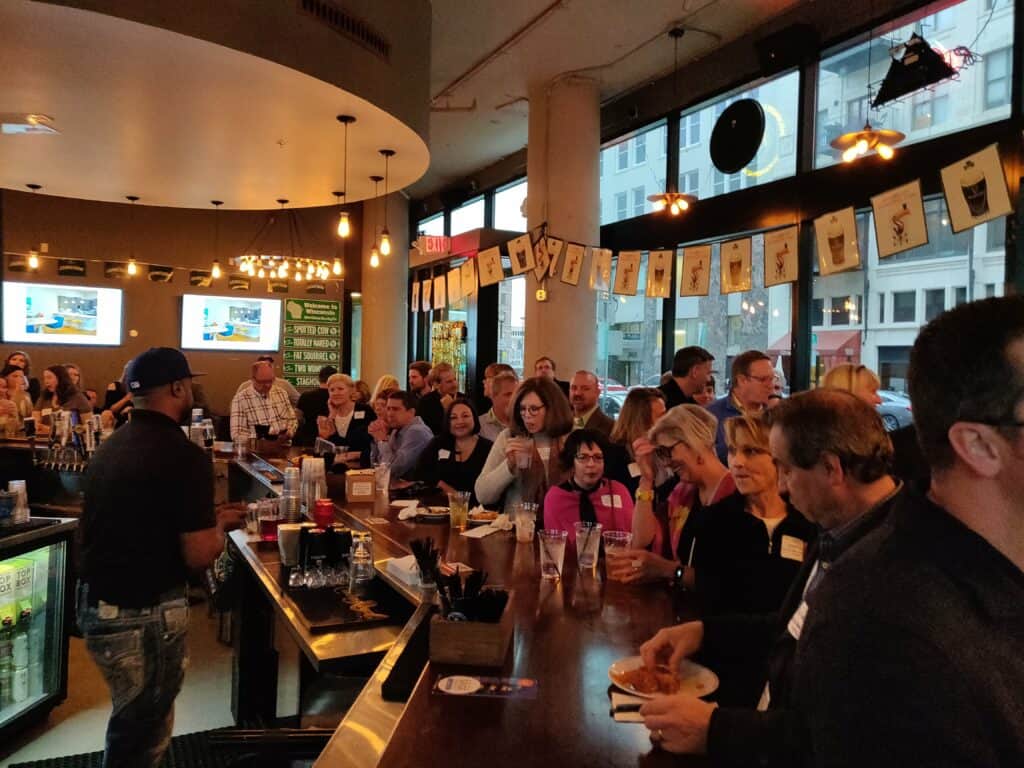 We LOVE kicking off every EFA with the SAGE member reception! This year's reception, held at the Wisconsin Tap Room of Mo's Irish Pub, was easily our biggest one yet, reflecting the growing membership and influence of SAGE. Member dues do not pay for this event, we owe that to our amazing sponsors. Click here for highlights!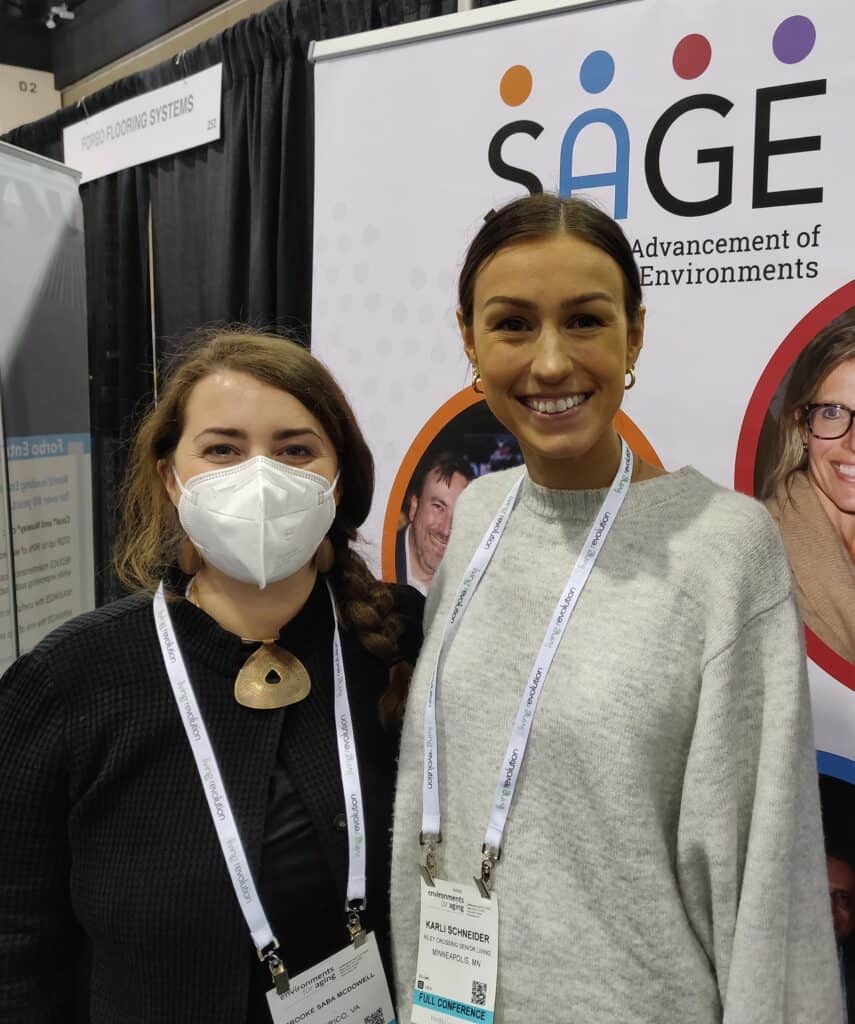 David A Green Memorial Award Winners
SAGE was thrilled to recognize TWO outstanding up-and-comers in the senior living industry this year as recipients of the David A Green Memorial Award. In honor of SAGE co-founder David Green, who revolutionized the way we think, feel, operate, and design environments for older adults, the idea behind this award to is to make this conference experience a possibility for someone just getting started in the senior-living industry. Congratulations to Brooke Saba McDowell (left) and Karli Schneider (right), our 2022 recipients! Learn more about the David A Green Memorial Award.
SAGE was especially excited that David Green's family was able to join us at the SAGE member reception this year! His wife, Vernita, shared some touching sentiments about David and the place the Environments for Aging Conference held in his heart. We like to think he would be thrilled that future great minds of the industry are able to attend the conference in his memory.
SAGE on Stage!
Wow! We knew our members were amazing, but holy moly, they really left their mark on the big stage at EFA! From Design Champions, to Design Showcase honorees, to the Changemaker Award, SAGE members are making a difference in the industry, and being recognized for it. And please forgive the less-than-ideal photos; the professional photos aren't ready yet and cell phone cameras don't quite cut it in low light!
Maggie Calkins: 2022 Changemaker Award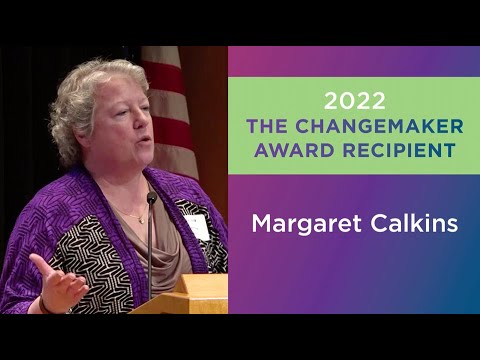 A particular high point of this year's Environments for Aging conference was seeing one of our co-founders, Maggie Calkins, receive The Center for Health Design's Changemaker Award. As the Center shared, "Long before the Changemaker Award existed, Maggie was already intent on making change. In the 1980s, when nursing homes – especially for those with dementia, Alzheimer's and other cognitive issues – more often resembled hospitals and warehouses than homes, Maggie set out to improve the quality of life for elderly people in all types of residential and care settings."
Congratulations, Maggie! View the award presentation here, including an on-stage sit-down discussion between Maggie and Addie Abushousheh, PhD:
Short on time? Watch this short–and inspiring!–video about just some of Maggie's many accomplishments.
Grant Warner: EFA Design Champion
EFA Design Showcase Honorees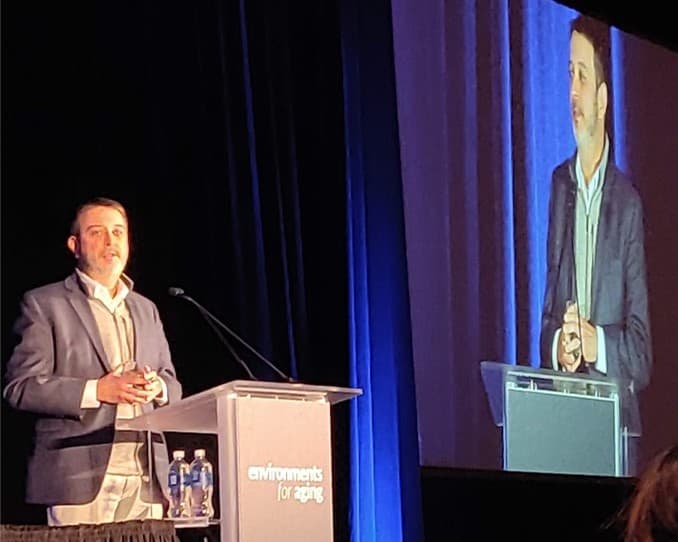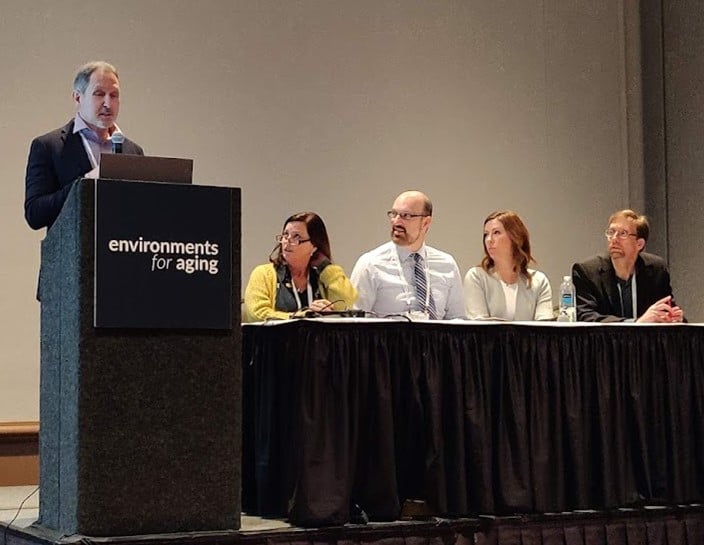 SAGE Board Member Grant Warner, Principal at HKS, was honored as one of the 2022 EFA Design Champions. He's definitely a champion in our book, so we were thrilled to see him recognized as such! Learn more about Grant and his contributions to and passion for the industry in the Winter, 2021 EFA Magazine. Of particular interest is his involvement in the Sleepover Project, a research program run by HKS. Grant describes the program as "…more than just an evidence-based design process; it's an inspiration." Congratulations, Grant!
SAGE President Rob Simonetti introduces the winners of the 2022 EFA Design Showcase competition at a conference session highlighting the winning projects. Included in the presentation were SAGE Board Member and President of Wegman Design Group, Lori Wegman (Award of Merit, Tribby Arts Center at Shell Point Retirement Community) and Alicia Nicolay, Director of Design at Spellman Brady & Company (Honorable Mention, Sagewood in Phoenix). Learn more about the 2022 Competition in the Spring 2022 issue of EFA Magazine.
We hope to see you at the 2023 Environments for Aging Conference + Expo in Charlotte, NC!

Stay in the loop here.
Want to present at EFA 2023? Did you know that 70% of this year's EFA conference sessions were presented by at least one SAGE member? That's a lot of great minds! Join them next year: Presentation proposals are currently being accepted!
Want to be on stage? Reservations are now being accepted for the 2022 EFA Remodel/Renovation Competition, with winners recognized on stage at the 2023 conference. Stay tuned for updates on the 2023 EFA Design Showcase later this fall.
Want to save 10% off EFA conference registration (a discount that more than pays for SAGE membership)? If you're not yet a SAGE member, join us today and start taking advantage of free webinars, networking opportunities, conference discounts, and more!